Local Focus: Meet the Kiwi characters making coffins for charity
By: Delilah Whaitiri Video Journalist, Rotorua, NZH Local Focus delilah@localfocus.nz
Dianne Pye has an unusual pastime, she lines the insides of coffins for the Kiwi Coffin Club in Rotorua.
Less surprisingly, a big part of her job is comforting strangers as they prepare for their own departure.
"Some people are towards the end of their life and they just need a little bit of cajoling to come to terms with what they're going to do, and they get to be happy with what they do," she says.
"Other people are a bit like me, just come along and 'Yeah, I'm going to make my coffin so I have prepared for the future'."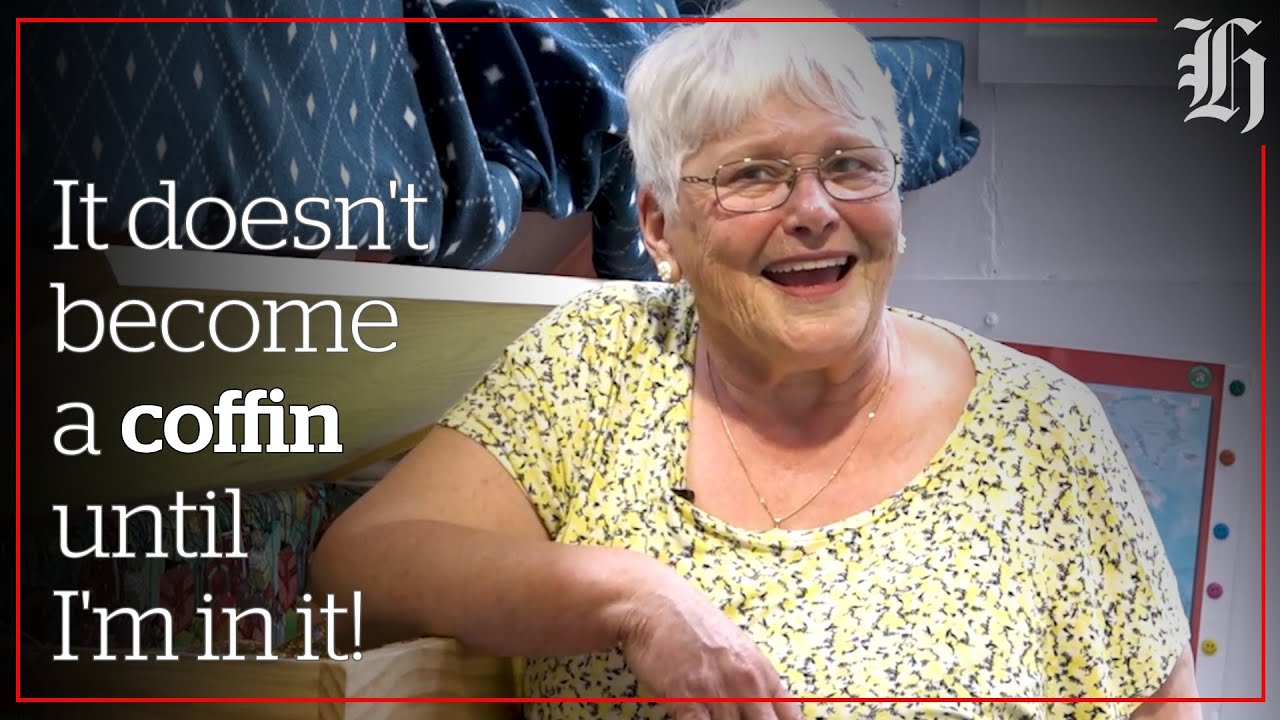 The Kiwi Coffin Club is a Rotorua-based charitable trust offering custom-made coffins at about half the usual price.
It is staffed by about 20 volunteers and relies on donations from the community and favourable rates from suppliers.
Ron Wattam is one of those big-hearted volunteers.
He works all hours of the day and night to help those in need of a coffin.
The retired coffin maker is one of the Kiwi Coffin Club's longest-serving volunteers and doesn't shy away from a challenge.
"Earlier this year a gentleman who knew he was passing away ordered his coffin.
"He was a car enthusiast and he wanted it to be like his car," Wattam said.
"They gave us some photos, and we made a car look-alike, painted that car exactly the same colour as his car and it looked very close.
"It had four wheels on it - it was an MG Sports Car 1955 model for those who may know it - and it just looked like that and I took it around to his place to show him before he passed.
The man had previously told family members that he was going to be cremated, Wattam said.
"Only two weeks before he passed he announced to the family ... 'I just want to make this announcement, I'm now going to go away in my car, into an underground car park'.
"There was the family, there were friends and his wife - everybody was there - and I was in the background.
"And we were just stunned, we didn't expect that."
Much like the customers, Pye has also planned for the inevitable.
She's currently working on the third version of her own coffin.
"The first one was the actual coffin shape and I'd undercoated it and everything.
"I'd taken it home because I was going to do some absolutely fantastic things with it but then I thought, you know, I don't really want a coffin shape at home. "So I took it back and it was sold.
"We made another one, just the casket shape which is the oblong one. Last year during lockdown, I came in and painted it bright pink.
"Then after I finished painting it I was going to put the lining in, which was going to be this Christmas present lining.
"But then I thought, I wonder if I'm going to fit in there, and so I gave it a try.
"And no, I wasn't going to fit. You know, somebody would have had to jump on it to keep the lid on.
"Anyhow, I put some of the commercial lining in it instead of my pretty stuff and it was sold just recently.
"In the meantime, I wanted another one. I wanted a wooden one this time and all I've done is put some beeswax on it.
"So it's just waiting. It's only a box now. It doesn't become a coffin until I'm in it."
The Kiwi Coffin Club was one of 40 recipients of the Rotorua Lakes Council community grants.
The charity remains on the lookout for passionate volunteers to help provide customers with their final home.
Well yes, we once again had to smile for the camera! On this occasion, a filming crew from Japan were visiting us on club day, filming all the activity going on. They were extremely interested in the whole process of making the coffins/caskets – from the baby coffins, different sizes and styles of full sized coffins/caskets, to the pet coffins and ashes boxes.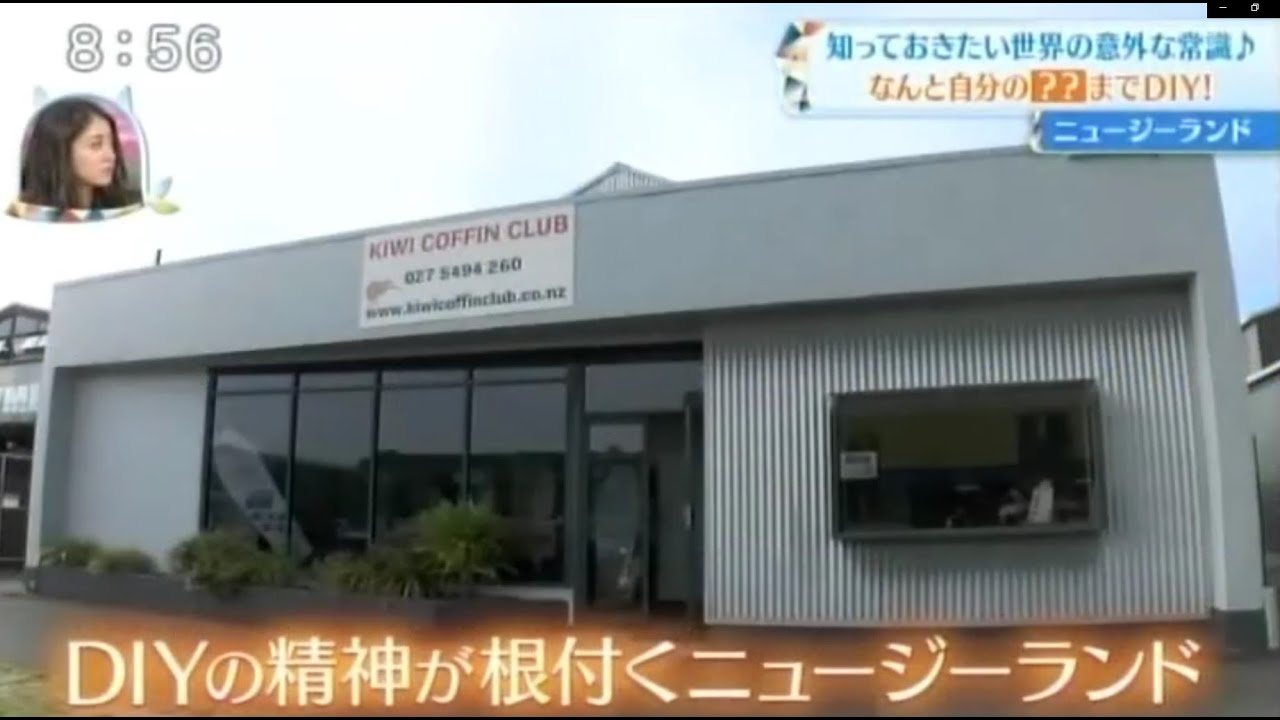 A quirky New Zealand club which celebrates death has been be brought alive through a new documentary. New Zealand Coffin Club is brought to life through documentary. The club has been running for nearly 10 years and has been widely praised.
Coffin Club has been running in Rotorua for nearly ten years and has drawn praise from far and wide with the club even featuring in UK newspapers.
"I have built my own coffin, I just realised that was seven years ago, I didn't think I was going to last that long," 90-year-old Coffin Club member Jean McGaffin told 1 NEWS.
Her coffin design hasn't quite reached its final stage yet though.
"I want it all covered in glitter, because I'm a glittery girl," she says.
Coffin Clubs are now popping up all over the world, gaining so much popularity that a documentary has been made with Ms McGaffin landing a leading role.
"I'll be world famous in Rotorua probably, the film visits several people and they are beautiful coffins. Mine will be quite plain," she said.
The documentary debuted at the New Zealand International Film Festival in Auckland last week. It will be available to view online at www.loadingdocs.net and TVNZ On Demand from August 11.
I found out about this club through a Loading Docs video, which you can check out. Never had I considered that they would now be a club that reaches a varied and large part of their community, dealing with the loss of stillborn babies, children, victims of crime and accidents, sudden deaths and friends and whanau wanting to be part of a final stage of a loved ones life by making their coffin a personal tribute. It was confronting, an eye opener, sad, beautiful, inspiring and reminded me that we are all connected to the beginning and the End.
Here's my chat with Katie - founder of The Kiwi Coffin Club, along with some pictures from our morning with them.
I've adopted them all as my friends and surrogate grandparents...who doesn't need more grandparents! A heartfelt Thank you to ALL at The Coffin Club for being so welcoming, inclusive and raw with your heart felt connection to what you are doing. xo EC
Katie said when the weathers good the courtyard/carpark area is usually full of people working on their creations. All sorts of artistic styles and ideas. Sunflowers with grandchildren's names in each. Elvis themed so she can lie with him forever! Race cars, boats, beach scene murals. There really are no boundaries.
Heading into the baby coffin room - I hadn't been expecting this part. It was emotionally challenging. Katie shared some amazing stories about the addition of baby coffins to the club. She has amazing memory for the families she has worked with and their journeys.
If it's one bit of worry and stress these guys can take away for a grieving family then that is what they do. They also work quite closely with the local hospital.
These guys have some great resources on funerals that are personal, inclusive and to suit a restricted budget. I love their welcoming morning teas, hugs on arrival, storytelling and connection to their community via a topic that many of us don't really want to talk about it. But whether it is aging, illness, the unexpected - at some point we are all confronted by loss and death. These guys are about making it a little more affordable, a place where you can talk about it (or not), where even your wildest ideas can come to artistic life and you can inject plenty of your own personality into your final resting casket or have them do it for you.